What Is Ubuntu?
selected works by Gretchen Andrew
// We want to welcome back Search Engine Artist Gretchen Andrew to Asymmetric. If you didn't catch her other features, be sure to take a look here + here. This time, we dig into her latest paintings, planning an exhibit halfway around the world, her battle with and support from Wikipedia, and the angry Internet.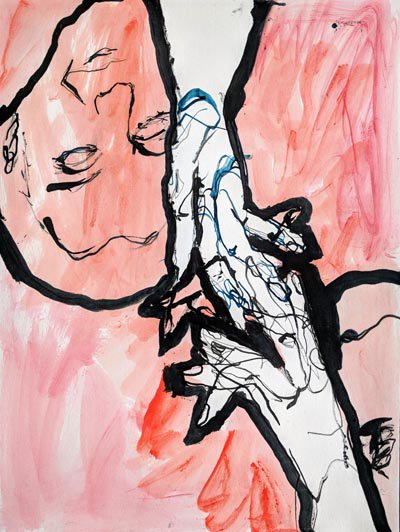 Asymmetric Magazine: What's bringing you to Cape Town?
Gretchen Andrew: I'll be going to Cape Town in July to be a part of Wikipedia's annual conference Wikimania. I'm going to share the first part of my Roughly Translated As series, which are collections of paintings that take untranslatable words as their thematic inspiration. It's poetically seeking painting's 'raison d'etre' and perversely like defining it's unique value proposition. 'Raison d'etre', a french expression roughly translated as 'reason or justification for being or existence,' is itself an example of such a word.
AM: What are your plans while you are there?
GA: I'm thrilled to be exhibiting my work through The A4 Arts Foundation while speaking about it with Wikipedia and their partner Whose Knowledge. They have invited me to Cape Town to share how my paintings manipulate the Internet into accepting art as a form of knowledge. I know that sounds really obvious at first–that art is a form of knowledge–but it isn't generally how technical society handles it.
AM: Tell us more about Wikipedia in Cape Town.
GA: Every year Wikipedia hosts an annual conference celebrating all the free knowledge projects hosted by the Wikimedia Foundation. The theme of Wikimania 2018 is "Bridging knowledge gaps: the Ubuntu way forward," with the aim of focusing on what and who is still missing from our sum of all human knowledge and building shared strategies to bridge these collective gaps. Whose Knowledge is a global campaign to center the knowledge of marginalized communities on the Internet. I'm very thrilled to be working with both of them.
I know that sounds really obvious at first–that art is a form of knowledge–but it isn't generally how technical society handles it.
AM: What has it been like planning an exhibition halfway around the world?
GA: I've had to be more fluid and rely heavily on friends to get me connected. The artist Cameron Platter has been incredible, and Cerry from The Rennie Collection has been instrumental. Because my work intentionally crosses communities, art and tech, western and nonwestern, sometimes it's difficult to know where to do what and when, but Whose Knowledge and A4 Arts Foundation have both been very open to merging their communities. I'll be showing work and hosting talks across Cape Town while I'm there.

AM: What work will you be showing?
GA: The new work I am going to exhibiting is called What Is Ubuntu and is comprised of 13 paintings and a related search engine art manipulation. Ubuntu is a South African/Zulu word. One definition of Ubuntu is the connectedness that exists or should exist between people. I like how, inherent within this way of defining it, there is both the acknowledgment of its not-yet-achieved utopian hope and persistence that it's possible. 'Connected' is one of those famous Internet words that's come to feel pretty empty. That's why in the paintings, I focused on hands–reaching, touching–made up of loose, clearly human marks.
The other collection is Made For Women which addresses the consumer-based identity of being a woman: which has been identified by search engines as pink, anti-aging and fat-burning. Inventing differences obscures the importances and nuances of real differences. This is universal womankind as Milan Kundera describes it in Farewell Waltz, "There is no reconciliation possible between a woman who is convinced she is unique and women that have shrouded themselves in universal female destiny [of childbirth]." Kundera describes believing in love as being in uncomfortable opposition to femalness in its universality, "the femaleness that snickers at the thought of that fleeting second when a woman believes she is loved and feels she is an inimitable individual."
'Connected' is one of those famous Internet words that's come to feel pretty empty.
AM: What has been the response to your work?
GA: Artistically very positive, especially as I am finding more concise and relatable ways to explain it. But while as an organization Wikipedia, and particularly it's partner Whose Knowledge has been very supportive, individuals on many of the platforms I use (Wikipedia, Reddit, etc.) have been antagonistic. I'll compose detailed arguments and gets the response, 'TLDR (too long, didn't read). I am deleting your images.' I've had my paintings called 'childish', and for some reason, been called a 'soyboy'.
AM: I personally love the color in your new works.
GA: Thank you! LA is a colorful place–literally and metaphorically. I'm letting it be part of me and my work.
View more of Gretchen's work at gretchenandrew.com.