Music Spotlight: Moontower
LA-based indie-rock band moontower, composed of Jacob Culver, Devan Welsh + Tom Carpenter, is looking to bring something to the music scene that's never been done—and they're succeeding. the three-piece band built their own set, developed a strong aesthetic + played several shows throughout southern california before ever releasing a single piece of music. The band, while focusing on the live experience, seeks to tell the story of William hollywood, a relatable narrative of growing up in American suburbia. moontower now has three singles out + will also be releasing a sitcom early next year to correspond with their upcoming album, which will be another part of the world they are creating for their fans. we were lucky enough to catch all their energy at the moroccan lounge last month, where they turned the stage into a huge party. We chatted with the band about everything from william hollywood to orange juice.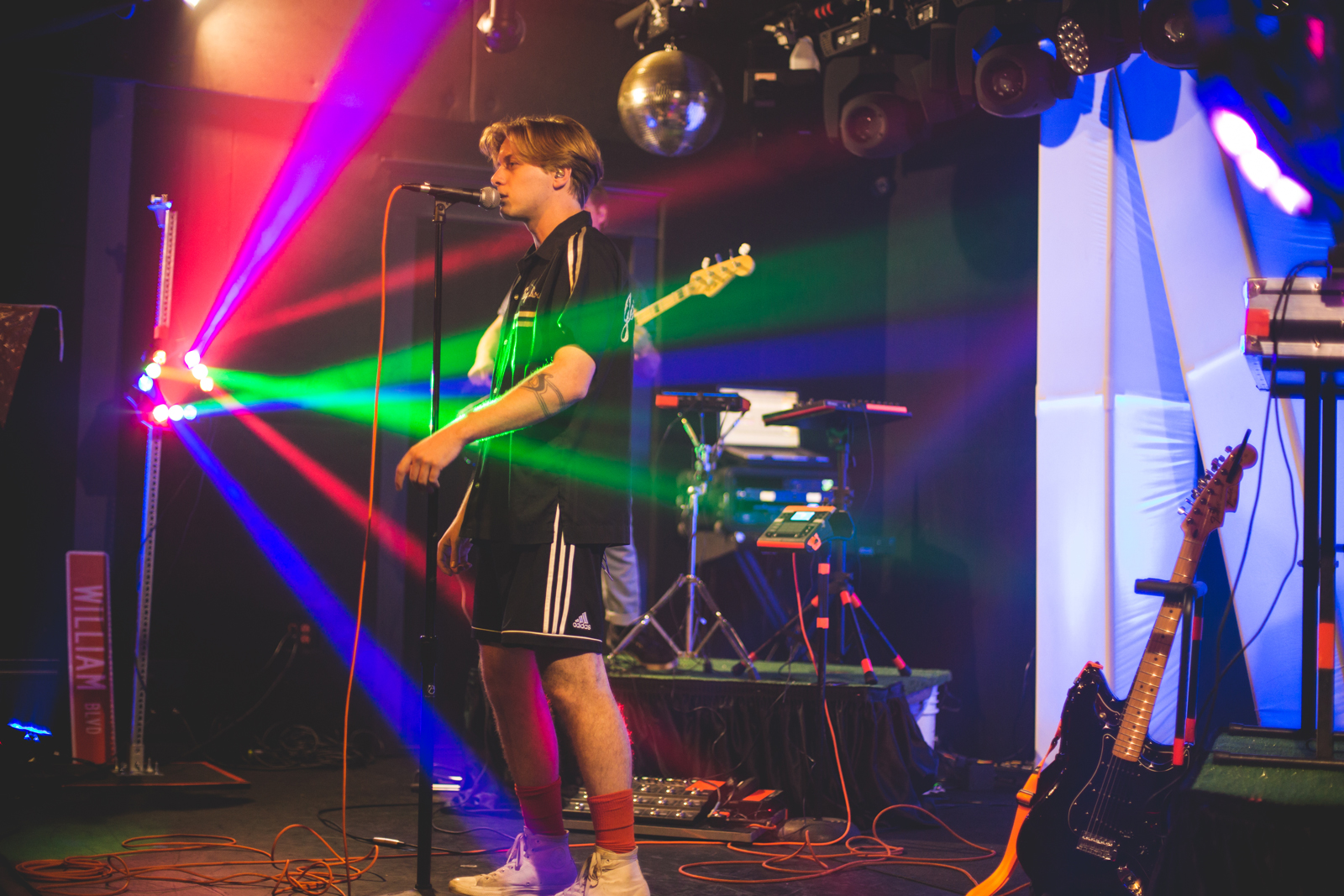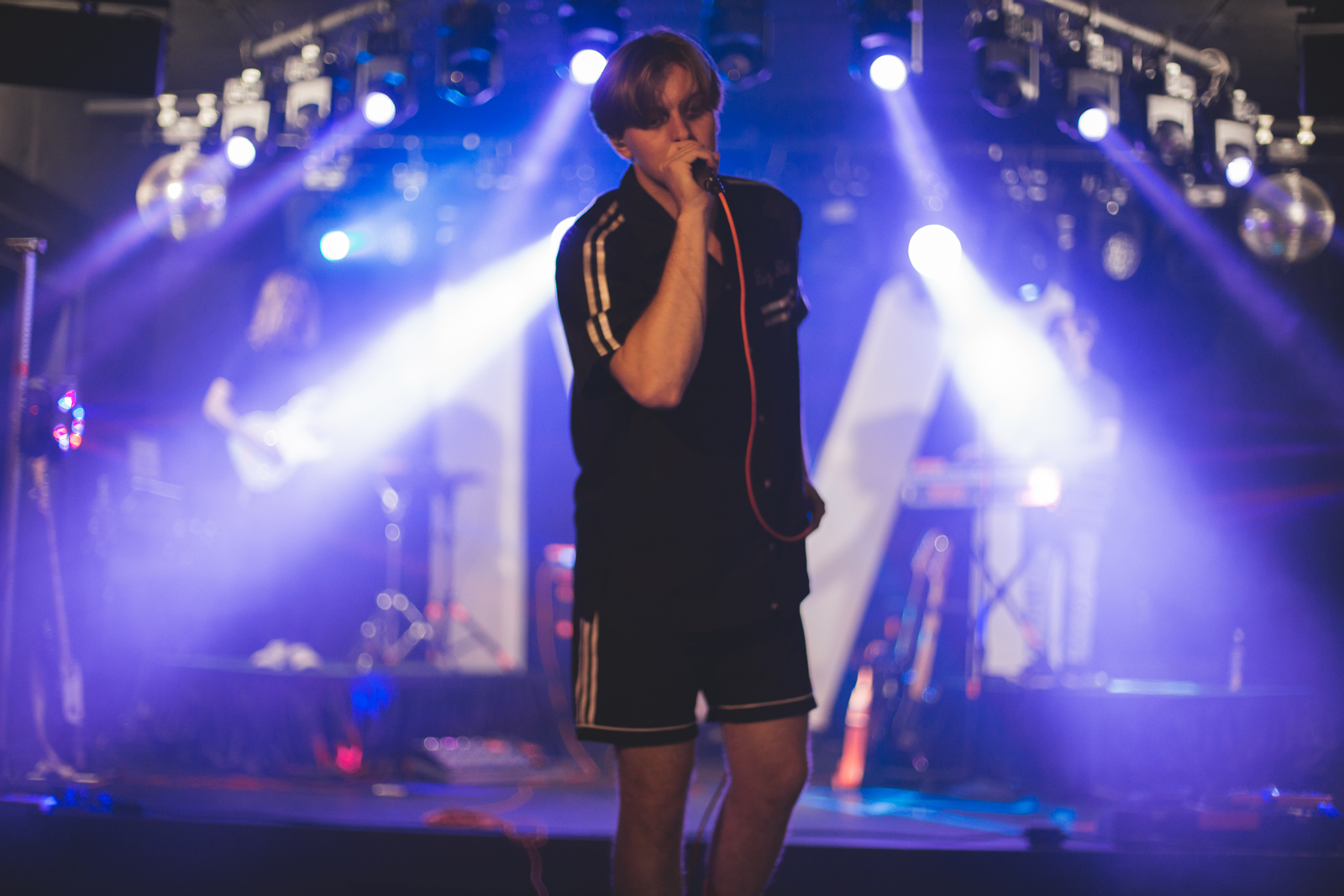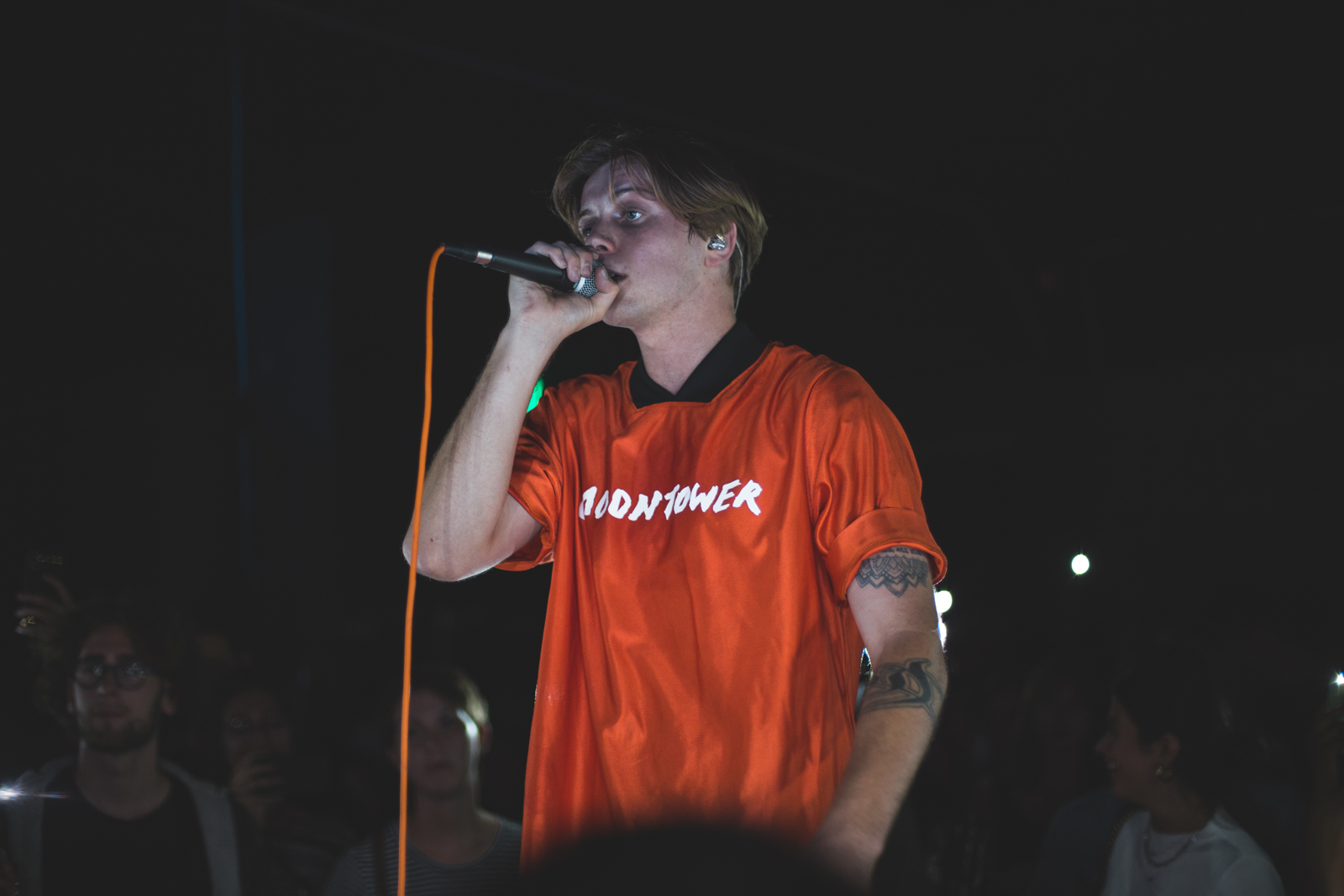 Asymmetric Magazine: Congrats on the release of your new single Long Hair. Can you tell us about the track?
Jacob Culver: Long Hair is our third single, and we're really excited about it, because this song gets into more of what the message of Moontower is trying to be overall. The first two tracks [William and Leaving You Behind] were introductions to our upcoming album and introductions to William Hollywood, who will be a centerpiece of that album. Long Hair really captures the message we hope to spread as a band.
AM: What's the message?
JC: It's about taking power over the things you've failed at. It's about not letting your failures define you, but also understanding that the things you wanted when you were a little kid aren't necessarily what you're supposed to be having now. Every day we should be striving to find and work at what makes us happy. For us, when we were little, we all wanted to be sports stars. We grew up to be all 5'7", and it's not in our future. Sports may not be in the cards for us, but if we would have continued to pursue something that wasn't right for us, we would've never found music, and we wouldn't be doing what we truly love. We hope through this band and through our music, we can inspire people to go after what makes them happy and work mercilessly at it. I don't think there's anything you can't do through hard work; you just have to be willing to go through some pain—and sometimes that's okay.
AM: So, who's William Hollywood?
Devan Welsh: William is our roommate and good friend of ours. He's a genius, very talented—a Da Vinci of sorts. He's also our videographer and filmmaker. We have a bunch of videos that are coming out in January as a part of a sitcom we're creating, which were all made by, directed by and featuring him. It all started when we were making some music a few months ago, and he came into the room and said the music was really speaking to him. He asked if he could make videos for us, so we got the idea to tell our stories through his eyes. When we were comparing stories, we found that so much of our childhoods were similar, so the album is all about those stories through the character of William.
AM: Tell us about the sitcom.
JC: In conjunction with our upcoming album, we've been working on a video series that takes on the style of a sitcom. Each song on the record has its own episode, and the whole series is focused around William's character. The overall theme of both the album and sitcom comes from all of our past stories—about how we had our hearts broken or how we'd sometimes break hearts. We thought it was so crazy that kids from other suburbs from all over had almost identical stories—all these unrealistic expectations of love we had when we were young—that we can all relate to. It's about growing up and realizing that things you thought when you were young are often false or aren't built on strong foundations. As a band, we had so many conversations about those topics, and William wanted to make it visual. Not only do we always want to be trying to push the boundaries of how bands release music, but at the core, this is a project that we strongly stand behind. We don't just want to release songs on Spotify, we want to give people a world to fall in to.
We don't just want to release songs on Spotify, we want to give people a world to fall into.
AM: You guys came out with a really strong aesthetic from your cover art to your merch. What was the vision and how did you land on the color orange?
Tom Carpenter: The videos and album are all a surrealist take on suburban USA, and orange juice reminds us of those morning breakfasts in our childhood. It's more than the color orange, but it's the orange juice—it takes us all back home. Jake has this story that for the last 30 years, his dad always has a glass of orange juice and two dried apricots before he goes to bed every night. The album is a concept album, and orange juice is a plot point. It's just a really special part of the story we want to tell.
AM: Alright, here's a hard-hitting question. Pulp or no pulp?
JC: Fresh squeezed, and we prefer to squeeze it ourselves.
AM: You've been playing a lot of live shows lately. Do you have a favorite track you like to play live?
TC: For me, it's Marathon. It was the first piece of audio that ever hit the Internet for us. It's the audio in our Pilot video, which is the start of the William narrative. It's such a fun one to play live.
DW: I like Balcony Part II because everything slows down.
JC: I like playing Balcony Part I. I get to be really angry in that song, because it was written about someone who did not make me very happy. So much of our music is meant to be uplifting and reflective, but anger, even if it's temporary, can be very therapeutic to let out. The part of the set where we play Balcony Part I and Part II is truly for us.
AM: Speaking of shows, we know you love to create a full experience. Can you tell us about what goes into each live show?
JC: Before we even released our first song, we worked on this idea of bringing something more than what people expect to the live music scene. We were going to all these college parties where bands would play. We would sort of survey the party, and no one had a clue what band was playing. You'd walk in the backyard and only see a broken strobe light. And on the other end of the spectrum, with festival culture, everything is such high production. So, we spent about ten months building production for what would be our very first show. It involved our own stages and our own lighting. We played with exclusively that set around California before we had any music out, so you just had to come experience it and step into our world. As our music starting rolling out, we wanted to keep that same energy inside the narrative, and they just started unfolding together. Everything we make is geared at bringing something more than what's expected to the live experience.
AM: How do you think your live set will evolve?
JC: We're really looking at the live music space and seeing what bands are doing that has never been done before. It's so inspiring. We want to push the boundaries of live music at every stage of our career. As we evolve, we always want to play every show like we're playing one venue bigger than the venue we currently are. At the end of the day, we really just want to challenge ourselves and try new things. Doing that in the live music spaces allows us to learn something new every day, and it keeps it infinitely more exciting.
AM: Was it challenging sitting on finished music during those months of production until the live set was exactly how you wanted it?
JC: We always thought of Moontower as a live project first. Today, everything is so saturated and new music is being put out every day. It's hard to cut through the noise. We wanted our band to be something you had to go see to hear our music. We thought we could make a greater impact and build a strong community around connecting people at live shows. We were lucky enough to play all over California before ever putting any music out. It was challenging when people would ask where they could find our music, and we had to answer 'no where.' We didn't want to put music out for essentially no one—we wanted to create a community first. And we wanted to build on the idea that if you give us a backyard and a decent sound system, we can come in and give you something you've never seen before. We've played in venues, backyards, and living rooms, and each one is so special. We told ourselves we weren't going to release music until the community was there. The biggest challenge was staying true to not releasing music but wanting to continue to expand.
AM: What other musicians are you listening to right now?
JC: Definitely Yungblud, and I can't wait for the new 1975 record—I think it's going to be the best album of the year.
TC: Pinegrove and Arrested Youth
AM: What can we expect to see next?
TC: We're working with a production company right now that we're super excited about. We're planning to release our sitcom at the end of January. Other that that, we're playing lots of shows here and there.
// listen to long hair:
// Listen to more Moontower on Spotify.